GTS Translation Services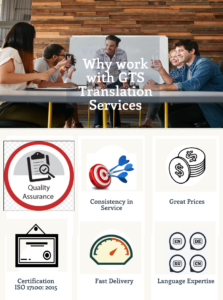 GTS Translation Services is a professional translation company that provides a wide range of human translation services in hundreds of language combinations.
Why should you work with us?
GTS is the best translation services company. We have a tested team of certified translators in over 100 countries. Our stringent translation quality policy ensures that you will get the best translation services for your money. We have been providing for over 15 years translation services to some of the world's leading companies.
Great Prices
Our prices for professional translation services are the most competitive in the industry. Prices start at $0.08 per word for translation and review. Click here to get more information about translation service prices.
Use GTS coupon codes to get a discount for translation services. New customers get a 5% discount on their first order. Click here for more information on translation price discounts.
Get instant price quotes for translation services
Get an online price quote now for the documents you want to translate. You can complete the order online and start your translation project today.
Translation Services Provided by GTS
We provide the following translation services in over 80 languages:
Financial translation services for companies, financial institutions, banks, insurance companies
Legal translation services for companies and law firms,
Medical translation services for pharmaceutical companies, medical device companies, CROs
Patent translation services for companies and law firms
Professional document translation services
Website translation services
Technical translation services of technical manuals, tender documents, installation instructions
Translation of technical drawings in any file format
Translation of human resource materials, employee handbooks, employee surveys, training materials and courseware
We work with some of the world's leading companies-click here for a list of GTS Translation clients. Many of our customers have praised our level of service and performance. Click here to read some GTS Translation customer testimonials.