Client Testimonials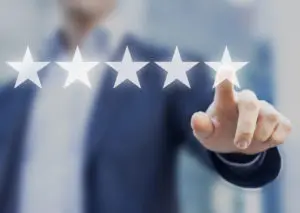 GTS is a great translation company to work with! Our clients consistently receive excellent customer service and are so happy that they have rated their experience as exceptional in every aspect-this includes support via phone, email and chat, speed and quality of delivery, and the ease with which all customer issues are handled.
Click here to get an instant online price quote for translation services.
Read the client testimonials about our business and see why our customers love us. GTS Translation has a 4.7/5 rating on Google Places. We are one of the top translation service providers listed on Clutch and on Goodfirms. We are listed as the 8th best translation service (out of the top 100) by Manifest, a Washington DC-based B2B consultancy firm. GTS is listed in the top 10 translation services by Geekflare.
https://geekflare.com/best-translation-services/
You can read some of these client testimonials on the bottom right-hand corner of this page. Here are some other samples of client feedback we have received.
Thank you for your efficient service, it was pivotal to ensure a timely submission of our licence application!
Graziella Vella
Head of Compliance
ComeOn Group
Based on my first experience with GTS Translation, I'd very strongly recommend them to you. Having seen a very positive online magazine review for them compared to their competition, I approached GTS for translation of a six slide Powerpoint deck from English to Arabic. GTS delivered the translated slides on time, only for me to realise I'd sent them a previous version for translation. Once I'd brought MY mistake to their attention, they updated their translation – both promptly, and at no additional charge. I've just sent the resulting two-language slide deck to a prospective client I have – and he reports that the quality of the translation is EXCELLENT. I'm very happy, and am now looking forward to sending more translation work to GTS Translation!!
Bernard Rix
CEO, CoPaCC
Publisher, PolicingInsight.com
Founder, World Class Policing Awards
It looks very good (a physician French speaker gave it a look over and was pleased).  Thanks for helping us get this done.  The course we're teaching in Haiti is in 3 weeks so we should have plenty of time to print copies for the participants.
Adam Silverman, MD, Director, Center for Global Health, Pediatric Emergency Medicine, Connecticut Children's Medical Center
I am just now receiving the feedback from my colleagues in Germany and Spain. I have been told the same from both so far that the translations were very good, clear that the people understand what they were saying in your translations and not just being translated literally like we have seen done in the past which has caused many issues.
Lacey Horne, Marketing and Communications, Neovia Inc.(formerly Caterpillar Logistics Services)
Thanks, you guys rock!
Chelsea Dennis, Marketing Manager, Thompson Surgical Instruments, Inc.
We are very happy with the results of the translations.  The setup for each section was perfect and it made implementing the translations much easier for us.
Joshua Meinke, QA/Regulatory Supervisor, Applied Medical Technology, Inc.
Thanks, you are great to work with!
Sue A. Jenkins, OQ Measures, LLC
It looks fantastic, thanks for bringing this in so quickly.
Daniel Sevitt, Idoomo.com
Thank you very much for the documentation. Thank you your efforts in meeting our schedule. This helps us tremendously.
Junko (June) Kubo, Konica Minolta Business Solutions U.S.A., Inc.
Thank you very much for the speedy translation. Obviously we can really count on you!
Jordana Richmon, Barrister & Solicitor, IVOR M. HUGHES
Thanks a lot for the translations. This worked out very nice. Be sure that we will contact you again in case of further translations for ECI.
Claudia Hesse, ECI Telecom GmbH
The work we received was excellent, including the high quality flowcharts and graphics.
Alejandro Arias Gomez International Claims Manager MAPFRE|ASISTENCIA 
Thank you very much for your great support.
Renate Doezer, SAP AG , Mörfelden-Walldorf Germany
That is great news! Thank you for the update and for working so expeditiously.
Joann Peters, MHA, Chiltern International Ltd.
I have received the files. They look fantastic. Thank you.
Danielle Dumont, YSI Inc., a Xylem brand
Sehr gute Arbeit – vielen Dank!
Robert Yu, Huawei Technologies Austria GmbH
This version is excellent. Thank you. It was a pleasure working with you, very fast and efficient.
Maj Stenström, AstraZeneca, Mölndal Sweden
I just wanted to share a compliment with you from our CEO. He was incredibly impressed with the recent translation. It was quite evident to him that the team that performed the translation really knew what they were doing and produced a high quality translation that is a great help to us.
Laura Eichorn, FerroKin BioSciences, Inc. (now Shire PLC)
Related pages from our blog:
GTS Translation Shows Off Translation Skills on Clutch!
Top Sites for Translation Company Reviews
Updated November 21, 2023