Business Translation Services
GTS provides a wide range of business translation services for companies that do business internationally. This includes professional document translation of any type of business document, translation of business plans, annual reports, translation of website content, localization of software products, voice-overs/subtitling of company videos, translation of corporate communications and other certified translation services. We provide certified translation in all language pairs. Some of the world's leading companies have chosen GTS for their business and document translation needs.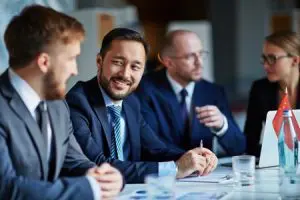 The translation industry is one of today's fastest growing business-to-business (B2B) market segments. International companies know that language services play a key role in global expansion. In today's global marketplace, most businesses make their web site available in every country where it has a market. The boom in the sales of smart phones and tablets is also driving the demand for language translation services, as software developers realize that they need to localize their apps to different languages to increase market share. More and more corporate information which is delivered electronically, like blogs and newsletters, is being translated.
With translators in over 100 countries and support of hundreds of language combinations, GTS is an ideal partner for your business translation needs. Click here to get an online price quote for business translation services.