MSDS Translation Services
Do you need a price quote for MSDS translation services? Just upload the MSDS you need to translate and specify the languages. The price quote is displayed in a few seconds and you can complete your order online. All credit cards are accepted.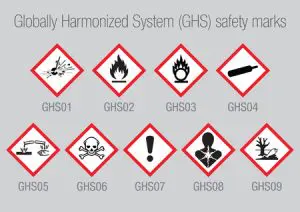 GTS provides a comprehensive solution for translation of Material Safety Data Sheets (MSDS) and for chemical products labeling. Our work is done in full compliance with regulatory requirements and standards in the target countries. Our team of SDS translation services experts have proven experience in translating chemical safety information and chemical product texts. Clients include Sunoco, Evonik Industries, Gerber Scientific, Henkel, SAP, Siemens, Vishay and Xylem.
We translate MSDS and chemical phrase libraries into all EU and Asian languages. This includes Spanish, German, Italian, French, Chinese, Japanese, Thai, Indonesian, Malay and Korean. Use GTS when you need a reliable source for quick delivery of SDS in multiple languages.
Compliance with Local Regulations
We can convert your MSDS to comply with the GHS format, which is becoming the worldwide standard used in Europe, Canada and the USA. We also translate MSDS to comply with the EU format, with the WHMIS (Canadian) format and with most other country standards. In the United States, the U.S. Government's Occupational Safety and Health Administration (OSHA) is responsible for the regulation of MSDS; MSDS should comply with the OSHA Hazard Communication Standard, 29 CFR1910.1200 . The American National Standards Institute (ANSI) has developed the ANSI Z400.1 for MSDS and ANSI Z129.1 for labeling. Additional state and local regulations may apply in the United States.
In Canada, both the product labels and MSDS must be available in both English and French Canadian. The chemical safety labels must have both the English and French on the same label. The applicable standard in Canada is the Workplace Hazardous Materials Information System (WHMIS). Click here to read more about the WHMIS requirements on the Health Canada website.
In Europe, Directive 2001/58/EC provides detailed guidance for the preparation of material safety data sheets.
Countries in Asia have their own MSDS standards. Examples include JIS 27250 in Japan and GB 16483-2000 in China.
MSDS regulations in many countries are evolving to enable globalization of standards. When translating chemical products to various languages, we try to meet the standards of all countries that each language is spoken in, in order to maximize your investment in translation services.
Related Links:
Converting MSDS to GHS Format
Converting USA-format MSDS to EU Format