Employee Handbook Translation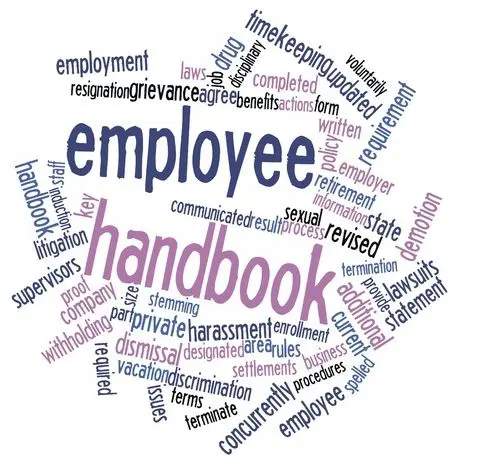 When you need to translate your company's employee handbook, look to GTS Translation for a fast and efficient solution. GTS has translated dozens of employee handbooks into over 50 languages. Click here to get an instant online price quote for translation of employee handbooks.
An employee handbook is a document designed to protect the rights of employers and employees in the workplace. It contains procedures, policies, working conditions and describes the conduct expected from employees in a particular workplace.
Although a company is not required by law to maintain an employee handbook, many companies do. Having a well-constructed employee handbook has become even more important today due to the rise in cases of sexual harassment and misconduct in the workplace. International companies with a multi-lingual workforce in offices around the world will typically translate their employee handbook into each local language.
Employee Handbook Spanish Translation
Because of the large Spanish-speaking employees in the US workforce, many USA companies translate their employee handbook to Spanish. GTS has extensive experience in translation of employee handbooks to Spanish. Our prices for professional employee handbook Spanish translation are the best in the market.
How much does it cost to translate an employee handbook?
You can get an instant price quote online for translating your employee handbook by clicking here. Just upload your employee handbook and select the languages to get a price quote in seconds. Then, complete your order quickly and easily by clicking Checkout. The price of translating an employee handbook will depend on the translation languages and the length of the document.
How long does it take to deliver a employee handbook translation?
This too will depend on the length of the employee handbook. The delivery time will be displayed together with the price in the online quote. Delivery in 4-5 business days is typical.
How do I know that my employee handbook will be translated correctly?
GTS Translation's quality policy is certified as compliant with the ISO 17100:2015 quality standard. This ensures that your employee handbook will be translated at the highest quality level. All of our translations are guaranteed.
Employee Handbook Clients
Here are some of the companies who have ordered employee handbook translation services from GTS:
Baker Produce Incorporated
Ben E. Keith Company
Bendura Bank
Chromalox Inc.
Endurance International Group
Flowserve Corporation
Goodman Real Estate Inc.
Power Pallet, Inc.
Surge Staffing LLC
SVI
Related Pages: Business Translation Services