Professional Technical Translation Services
Looking for fast, high quality technical translation services? Just upload the technical documents you need to translate and get an online price quote in seconds. We'll make sure you get your translations fast and at the best quality humanly possible.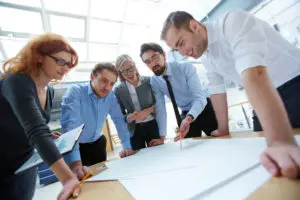 Top-tier Technical Document Translation Services: Trusted Solutions
Translation of technical manuals and technical documents are best left to an expert technical translation company like GTS. Poor technical translation services can lead to system failure, damaged equipment or even worse. Just imagine what an incorrect translation of safety or grounding instructions would mean to a technician whose job is to maintain high voltage electrical systems.
A good technical translator must not only possess an excellent command of both the source and target languages, but also an in-depth understanding of the subject matter and its terminology.
What is Technical Translation?
Technical translation refers to the process of translating technical texts and documents into another language. Technical texts are often intended for technical personnel, such as engineers and service/repair staff. That's why accuracy is so critical in technical translations.  Poorly translated technical texts may carry dire consequences, resulting in property loss and even injury or death. Technical translators should have advanced technical training and skills, as well as strong language capabilities.
Why you should entrust your technical translations to GTS


GTS is a technical translation company with a proven track record in delivering accurate technical translation into foreign languages. Our quality policy is compliant with the ISO 17100:2015 standard. Which means that all translations are delivered at the highest level of quality.
We have a tested team of technical translation and engineering translation services experts. This includes electrical and electronic engineers, civil engineers, mechanical engineers, materials scientists, physicists, chemists and chemical engineers, as well as other industry specialists.
We provide translations services for technical documents to some of the biggest companies in the world. Click here to check our client list.
Updated June 16, 2023
B2B research company Goodfirms lists GTS as one of the Top 10 Technical Translation Services Providers.
Technical translation prices
GTS offers the most competitive prices in the translation industry, with prices starting at $0.09 per word for certified technical translation and review. For high quality technical translation online, look no further than GTS Translation. Our prices are the most competitive in the industry. Click here to get an instant online price quote.
Technical translation price discounts
Use GTS coupon codes to get a discount for technical document translation. New customers get a 5% discount on their first order. Click here for more information on translation price discounts.
Technical documentation translation
GTS is the best provider of document translation services. We translate technical documents in over 80 languages. The following are technical translation example documents:
Technical manuals
Users Guides
System requirement documents
Safety reports
Installation instructions
Service manuals
Tender documents
Technical training material
Data sheets
Urgent delivery of technical language translation
Contact us if you need to translate a large amount of technical material quickly. We have teams of translators that we can deploy quickly to deliver technical translation of hundreds of pages a day.
We support over 100 languages
GTS has an extensive network of certified, professional translators in over 100 countries. We translate technical documents into all European, Asian, Scandinavian and Middle-Eastern languages. This includes French, Italian, German, Chinese, Japanese, Russian and Arabic. We specialize in technical translation English to Spanish.
We can handle any file format
Most technical documents are written in MS Word. But we also support other file formats such as Adobe Framemaker, InDesign, XML and just about any other document file format. If your technical documents have technical drawing and illustrations, we can translate the textual callouts and captions.
Dealing with industry-specific jargon and terminology
A key to a good technical translation is the consistent use of correct terminology. At the start of a project, our project manager will compile a glossary which lists the unique industry-specific technical terms used in your project. Translation of the terminology into each language is done at the beginning of the project in order to promote consistency and accuracy in the technical translation.
Use of Translation Memories
The use of translation memories will not only yield a better translation, it will help save money in the long run. Since technical translations are very often updated, you will only need to translate the revisions in each update.
Technical Translation Services Case Studies
Here are some sample projects that we have done in 2023.
Siemens. GTS has been providing Siemens Instabus building automation and control systems with technical translation service for over 15 years. This includes German, English, Italian and Spanish translation of programming guides, instruction manuals and web content.
Chromalox Inc. GTS has been providing Chromalox Inc. with technical translation services for over 10 years. We have translated their website into 5 languages (German, Chinese, European French, Canadian French, Brazilian Portuguese and Spanish). We have also translated for Chromalox dozens of technical manuals and instructions into over 10 languages.
Magna International. German English translation of 200,000 words of testing results for car seats safety data.
Plug Power Inc.. Translation of technical manuals to French Canadian.
Hamamatsu Photonics. Translation of Installation and Operation Manuals to European French.
Systra Group. Translation of technical RFP document from Hebrew to English.
Technical Translation FAQ
How is technical translation different from other types of translation? Technical translation requires the use of subject-matter expert translators with appropriate technical training in the field of practice. Only a qualified technical translator will have the knowledge which is needed to understand the source texts; and only a a qualified technical translator will be versed in the correct technical terminology and language.
What areas does technical translation cover? Technical translation covers every technological field. This includes automotive, electricity and electronics, mechanics, software, chemistry, civil engineering, materials science.
What skills do technical translators need? A good technical translator will not only be training in the specific subject matter, she/he will also possess excellent writing skills.
What format should the document be in for technical translation? Technical publications come in many different kinds of formats. The most common ones are MS Office (MS Word, Excel and PowerPoint). Other formats include Adobe FrameMaker and InDesign. Many times, only a PDF file is available and you will need to convert the file to MS Word in order to translate it. GTS can handle any file format.
How do you ensure the quality and accuracy of the technical translation? The first step in ensuring quality and accuracy is to use experience technical translators who are experts in the relevant subject matter. After the translation is done, it should be reviewed by a second translator in a process which is referred to as the four-eye principle.
How is the cost of a technical translation determined? At GTS the cost of a technical translation is based on a per-word price. Prices vary from US$0.09 to US$0.30 per word, depending on the language. Click here to get an instant online price quote for your technical translation.
What kinds of software or tools are used in technical translation? The software tools that technical translators use in the translation process are no different than those used in other types of translation. At GTS, our technical translators will use a CAT (Computer-Aided Translation) tool which produces a translation memory. The translation memory enables translators to leverage legacy translations in order to save time and costs. The CAT tool can also support a terminology-based which is used to maintain consistency and accuracy in translation of technical and industry-specific terms.
Is confidentiality maintained in the technical translation process? GTS maintains a strict confidentiality policy to ensure that your data remains safe. We can sign an NDA upon request.
Are there special certifications or qualifications for technical translators?  There are a wide range of certifications for technical translators. One of the most well-known certifications is from the American Translators Association (ATA). GTS is a member of the ATA. Furthermore, our quality system is certified as compliant with the ISO 17100:2015 standard.
Can technical translation services handle highly specialized or niche fields? Yes. Getting good technical translators for certain niche fields my be challenging. GTS has over 2,000 technical translators in most every technical field.
How does the review and editing process work in technical translation? Every technical translation at GTS is reviewed by a second technical linguist. The review process will (a) compare the original and the translation sentence by sentence to ensure that there are no skipped sentences. And (b) will include a straight reading to ensure that there no grammar errors and that the translation reads smoothly in the target language.
How do technical translation services deal with complex diagrams or graphics? Technical drawings are most often non-editable;  this includes schematics, flow charts, wiring drawings and CAD drawings. GTS has the tools and graphics personnel that are needed to handle translation of any kind of technical drawing.
How does the translation service deal with industry-specific jargon and terminology? At the start of the project, the project manager will create a glossary of terms associate with the specific project. The glossary will be shared with all translators and will also be shared with the customer in order to get feedback as relevant. The client usually has access to the most updated and accurate terminology in the industry.
Can the translation be certified for official use? Yes. At GTS we provide a signed statement of accuracy certificate with each translation.
How are translation errors handled and corrected? When you order a technical translation from GTS, you are allowed 72 hours after delivery to request revisions. After 72 hours, if you do not comment on the translation then the job is approved. Having said that, we offer a warranty on our translations which is not limited by time. In the unlikely event that translation errors are occur, we will revise the translation at no extra cost.
Are there any sectors or industries for which technical translation is particularly important? Accurate technical translation is important in every field of technology.
How does machine translation factor into the technical translation process? At GTS we do not use machine translation in our technical translation workflow. Our process is entirely human based.
How can I verify the credibility and reliability of a technical translation service? Ask the technical translation company for references. Also, check online reviews if they are available.
Technical Translation Language Services-Related Pages:
Automotive – Engineering – Translation for the HVAC Industry – Manufacturing – Technical Manuals – Technology IT – Software Localization – Translation Services for the Petroleum Industry