Video Subtitling and Translation Services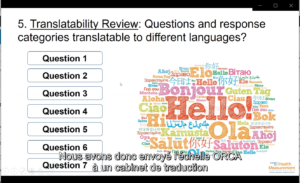 Video subtitle translation is an essential service for businesses looking to reach a global audience. With the rise of streaming services, more and more companies are turning to video subtitle translation to ensure their videos are accessible to viewers around the world.
Today more than ever before, videos are replacing in-person presentations at professional conferences, summits and business meetings. Since COVID-19 has seriously curtailed international travel in 2020, conference organizers have replaced physical meetings with virtual events. Some of the presentations and keynotes may be delivered in different languages. Due to the international nature of many conferences, some of the attendees may not speak the same language as the speaker. GTS helps bridge this gap by subtitling videos in foreign languages.

What is v
ideo
subtitle
translation?
Video subtitle translation is the process of translating the spoken language in a video into another language, so that viewers in different countries can understand the content.
Best Video Translation Services
GTS provides a complete solution for transcription, captioning, translation and subtitling a video. All you need is to provide us with the video on MOV or MP4 format and specify the languages. We do the rest and will provide you with a subtitled video which is ready to go. We provide videos subtitled in all languages including French, Italian, German, Spanish, Russian, Chinese and Japanese.
Captioning Translation Services
GTS translates all types of subtitle file formats. This includes SRT (SubRip Subtitle), SSA (SubStation Alpha), TTML (Timed Text Markup Language), SBV (YouTube format), DFXP (Distribution Format Exchange Profile), VTT (Web Video Text Track), TXT (untimed text transcript).
If you order the video transcription from GTS, we will provide you with SRT files which is the most common format. SRT files are plain text files with timestamps that ensure that the translated subtitles are displayed at the right moment in your video.
If you already have the SRT files ready, you can get an instant online price quote for the video subtitles translation. Just upload the SRT files and select the languages.
Video Translation Services in Healthcare
GTS specializes in medical translation services. That's why we are the best choice for translation and subtitling services of healthcare-related videos. We translate keynote speeches and presentations in medical conferences into any language.
YouTube Video Translation Service
The videos that we subtitle can be uploaded to YouTube, Vimeo and any other video sharing system. YouTube videos can be closed captioned using machine translation. But the quality of these translations may be too poor for professional use. GTS will provide you with professional translation of YouTube videos to avoid making you look bad.
Fast Delivery of Translated Transcripts
GTS can provide video and audio translation services at very fast turnaround times. This is critical, as conference speakers usually provide their videos at the last second, leaving precious little time for video transcription and translation.
Video Subtitling Prices
GTS provides the most competitive pricing in the industry. Here are some sample prices for transcription, captioning, translation and subtitling (prices per minute of video in USD; effective May 2022).
Spanish: $15
French: $20
Italian: $18
Simplified Chinese: $15
Arabic: $20
Japanese: $25
Korean: $20
Case Study
Relevant Reading: