Automotive Translation Services
GTS provides certified automotive translation services in over 80 languages. We understand the automotive industry and its underlying technology. Our quality system is certified as compliant with the ISO 17100:2015 standard. We translate the following types of documents for companies in the automotive industry:
Catalogs
Installation guides
Maintenance manuals
Manufacturing and assembly instructions
Owner manuals
Parts reference manuals
Repair manuals
SDS
Shop repair manuals
System specifications
Warranty documents
Case Studies
Here are some sample automotive translation projects:
German to English Translation of BMW Car Seat Manufacturing/Assembly Instructions
We translated several thousand pages of instructions for Magna Seating South Carolina, a company that manufactures car sears.
English to French Canadian Translation of RV Owner Manuals
We translated five Owner Manuals for Grand Design RV. The project also included publishing the five Owner Manuals in InDesign DTP software.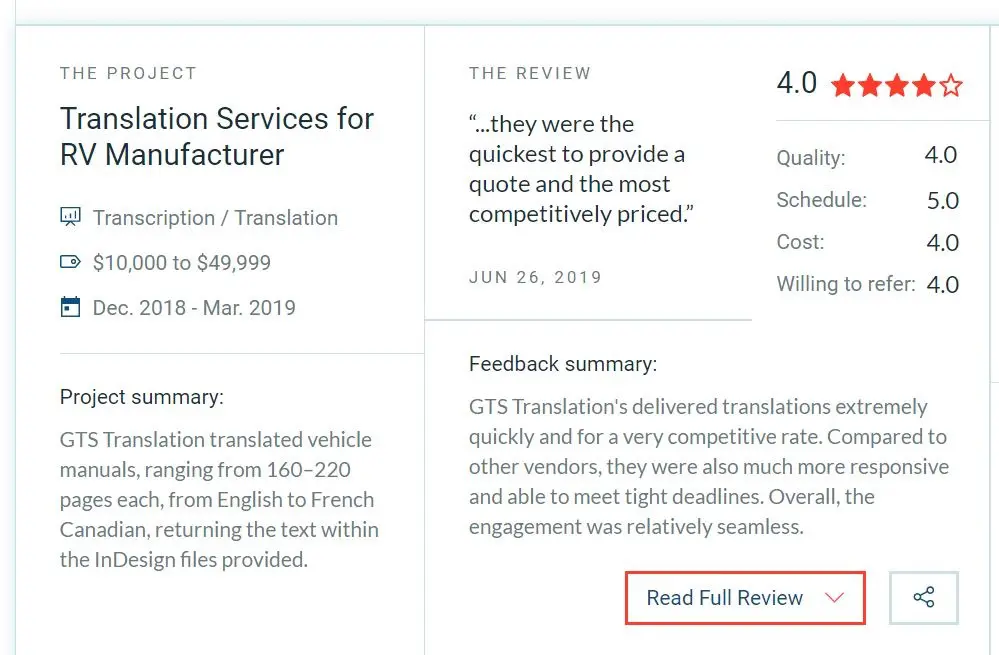 German Translation of Cars Battery Fire Protection Design Document
We translated 100 pages of technical reports and about 30 sheets of design drawings from English to German for Jensen Hughes.
Spanish and French Canadian Translation of SDS
We translated dozens of SDS into Spanish and French Canadian for Sunoco Race Fuels.
French Canadian Translation of EV Report
We translated a report and analysis by Clean Energy Canada that compares the cost of owning an electric vehicle vs. a gasoline-powered vehicle.