IT Translation Services
Count on GTS Translation for fast, reliable IT translation services.
| | |
| --- | --- |
| Click here to order IT documents translation online. | Get Free Price Quote |
| If you don't have your documents ready yet and are looking for a general translation price estimate, click here: | Get Free Estimate |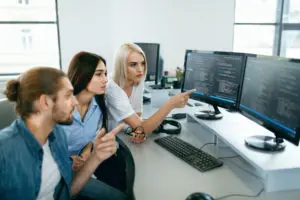 For non-technical personnel, Information Technology (IT) is a catchall term which refers to anything technical, as in I'll ask my IT person. But in reality, IT is a highly specialized field of engineering which applies computer hardware, software and telecommunications to control and manage information.
IT specialists require a wide range of documentation to perform their jobs effectively. This includes Internet content, support information, training material, User Guides and technical manuals. If your company is developing software or systems which are intended for the use of IT personnel, GTS can help you get that information across in other languages by providing expert IT translation services.
What IT documents do we translate?
We translate the following types of IT documents in over 80 languages.
* Brochures
* Datasheets
* Internet content
* User Guides and manuals
* Release notes
* API documentation
* SDK documentation
* Market Requirement documents (MRD)
* Architecture/Design documents
* Quality assurance documents
* Maintenance and help files
Certified Translation of IT Documents
Our Quality Management System (QMS) is certified as compliant with the ISO 17100:2015 standard. Which means that we deliver highly accurate, certified IT translation services. Some of the largest IT companies in the world work with GTS. Click here to see a client list.