Why Us?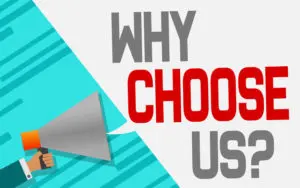 There is a lot of competition in the translation industry. There are hundreds and thousands of professional translation companies. So why should you choose to work with GTS Translation? Here are some of the reasons:
Good reputation: GTS has been in operation for about 20 years. Some of our customers have been working with us for since our inception. They keep working with us because they rely on our high translation quality, fast delivery and competitive pricing. Google Places has graded GTS Translation at 4.7 out of 5 stars based on client reviews. Leading B2 review website Clutch has us rated as one of the best translation companies. You can read more here.
Wide industry experience. As a well-established translation company with hundreds of clients, we have worked in nearly every industry. We have subject-matter expert translators and editors in all areas: be it medical, legal, technical or financial. We know the industry-specific terminology and can draw on experience gained through projects similar to the one you need to do now.
Excellent Translation Quality. Our Quality Management System (QMS) is certified as compliant with the ISO 17100:2015 standard. This means that you are ensured a very high level of quality. All translations are read and reviewed by at least two professional translators. GTS delivers the best translation quality humanly possible.
Thousands of in-country professional translators and editors. We only use professional human translators. We have a proven team of thousands of translators in every country in the world.
Reliability above all. When you order a translation from GTS, you can count on high translation quality and on-time delivery.
Fair pricing. Our prices are some of the most competitive in the industry. Click here to get an instant online price quote for document translation services and see for yourself how good our prices are.
Fast Delivery. Do you have a rush job with a hard deadline? We never miss and always deliver on time.
Service Warranty. We guarantee the quality of our translations. Read our warranty policy here.
Expertise in DTP. We are highly proficient in DTP (desktop publishing) in all languages. We support all file formats and DTP applications. If you have a product catalog or a publication with high-res graphics, we will deliver your translations in print-ready format.