English Translation Services
GTS provides high quality, certified English translation services. Click here to get an instant online price quote for English translation services and get started on your translation project today.
About the English Language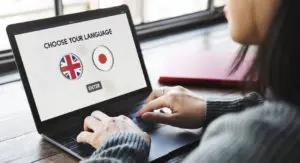 The English language has become the world's lingua franca and is widely spoken throughout the world. English is one of the official languages of the UN, it is the main language in world financial markets, and it is the default language of the Internet. Any company in a non-English speaking country must maintain a presence and translate in the English language in order to succeed internationally.
GTS-Your Choice for all English Speaking Countries
GTS provides targeted English translation for all countries in which English is an official language. This includes American translation services for the United States, England/UK countries, Canada and Australian translation services.
Translate in English
GTS translates between English and over 80 languages. We translate into English all types of documents. This includes translation of websites and web content; legal documents, contracts and patents; SDS; product catalogs; technical manuals, financial and business documents, medical translation services for clinical studies, new drug applications, CRF, Informed Consent, medical device manuals, IFUs and other related documents. We translate from English into all European, Asian and Scandinavian languages. We also translate from any language into English.
Some of the world's largest companies rely on GTS for top quality English translations. Click here to see a list of some of GTS Translation clients.
Certified English Translation
GTS is a certified translation company: our Quality Management System was audited by a licensed certification body and found to be in compliance with the ISO 17100:2015 and ISO 9001:2008 standards. GTS provides certified English translation services for medical, technical and legal documents.
Professional English Website Translation
GTS provides translation of websites and web pages into English from all languages. Click here to get an instant price quote for website page translations.
[/md_text][/vc_column][/vc_row]