Ketubah Translation Services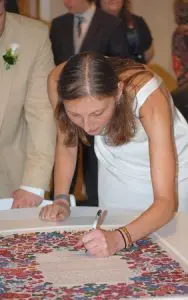 The Ketubah, which is an ancient Aramaic term for wedding contract, is a financial and legal document which specifies the marital obligations of the groom to the bride. These obligations include the extent of the financial settlement owed to the wife in the event of divorce or death of the husband.
The writing of the Ketubah is typically officiated by a Rabbi and is signed by two witnesses. In ancient times, the Ketubah was mostly written in Aramaic with very specific wording. The only variations in the wording of the Ketubah were the sums of money committed by the groom, and the status of the bride (single or previously-married). Furthermore, in ancient times (as well as in modern Orthodox Judaism), the Ketubah was a unilateral contract which was written on behalf of the groom only.
In present times, given the fulfillment of gender equality and with the rising popularity of liberal Jewish movements (like Conservative and Reform Judaism), the Ketubah has morphed into a document that details the marriage vows of both the bride and groom. Unlike in ancient times, finances are not the focus of the modern-day Ketubah. Rather the romantic and idealistic aspects of the future marriage are detailed. Indeed, many couples that approach the day of matrimony put a lot of thought and effort into the writing of the Ketubah.
GTS is the best translation agency for English Hebrew translation services. We have translated hundreds of Ketubot (the plural form of Ketubah in Hebrew) both into Hebrew and into English. The translated Ketubah can be read aloud at the wedding ceremony, laid out by a calligrapher and framed, or just kept by the married couple for posterity.
Click here if you would like to get a price quote to translate a Ketubah. Mazal Tov! (which means good fortunes in Hebrew).