SDS Translation Services in Malaysia
GTS Translation has a proven track record in delivering high quality SDS translation services into Bahasa Melayu and over 60 languages. We have translated hundreds of SDS for some of the biggest chemical companies in Malaysia as well as leading companies worldwide.
We are offering Malaysian companies a 10% discount on SDS translation services. Use coupon code MALAY10 to redeem the discount.
Click here to learn how to use GTS coupon codes.
| | |
| --- | --- |
| Click here to order SDS translation services. Just upload your SDS and get a price quote in seconds. | Get Free Price Quote |
| If you don't have your SDS documents ready yet and are looking for a general translation price estimate, click here: | Get Free Estimate |
Why Order SDS translation services from GTS?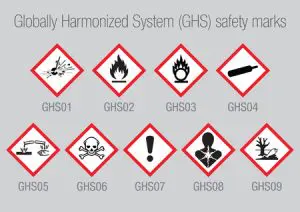 GTS provides a comprehensive solution for translation of Material Safety Data Sheets (MSDS) and for chemical products labeling. Our work is done in full compliance with regulatory requirements and standards in the target countries.
Our team of SDS translation services experts have proven experience in translating chemical safety information and chemical product texts. Clients include Sunoco, Evonik Industries, Gerber Scientific, Henkel, SAP, Siemens, Vishay and Xylem. We translate MSDS and chemical phrase libraries into all EU and Asian languages. This includes Spanish, German, Italian, French, Chinese, Japanese, Thai, Indonesian, Malay and Korean. Use GTS when you need a reliable source for quick delivery of SDS in multiple languages.
How much does it cost to translate an SDS?
SDS have an average word count of 2,500 words. Some run higher, some run lower. But 2,500 words per SDS is typical.
The average price to translate an MSDS into Spanish is $200. At GTS, this price includes professional SDS translation by a certified translator with expertise in chemistry, review and page layout in MS Word file format. If you provide the MSDS in PDF file format we will convert it into a Word file.
Related Links:
Converting MSDS to GHS Format Converting USA-format MSDS to EU Format