Informed Consent Form Translation Services
GTS Translation Steps Up to Assist in COVID-19 Clinical Studies
GTS is the leading service for professional translation of informed consent forms in Spanish and in all languages. We have translated hundreds of informed consent forms. Clients include some of world's largest pharmaceuticals, medical device companies, biotech companies and contract research organizations (CRO). When you order a consent form translation from GTS, your translations are delivered on time, within budget and in full compliance with applicable requirements. All translations are certified and delivered with a translation certificate (Statement of Accuracy). We guarantee acceptance by your IRB of the informed consent forms that we translate.
| | |
| --- | --- |
| Click here to get an instant price quote for translation of informed consent forms. | Translate Now |
Why Choose GTS as your translation company for informed consents?
GTS specializes in certified translation of Informed Consent Forms (ICFs) for hospitals, Universities, medical clinics and for multicenter research trials. We have translated hundreds of informed consent documents into Spanish, German, Italian, French, Chinese and most other Asian and European languages. We also translate consent forms from any language into English.
Informed Consent Form Prices
Informed consent forms start from 2,000 words and can run up to about 7,000 words. All depending on the nature of the new drug and the clinical trial associated with it. Average price per page to informed consent form translation to Spanish: $37.5.
At GTS, this price includes professional translation by a certified medical translator, review and page layout in MS Word file format. Also includes a Statement of Accuracy certificate. Average price per page to translate an ICF into Spanish with back translation validation: $80.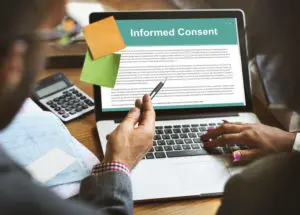 Certified translation of informed consent forms
GTS is a certified translation company-our Quality Management System (QMS) is certified as compliant with the ISO 17100:2015 standard.
When required by the IRB/ethics committee that monitors a clinical trial, we can provide back translation and validation of informed consent forms. All ICF translations are provided with a translation certificate.
Drug companies that conduct clinical testing internationally require that clinical trials conform to the World Medical Association's Declaration of Helsinki. These ethics committees require that the Informed Consent Form (ICF) be in a language that is clearly understood by the people participating in the clinical studies. This includes translation of the ICF to the local language.
If confidentiality of your documents is a concern, we can sign an NDA before you send us the consent form to be translated.
Related pages from the GTS Blog
Using Translation Services in Investigator Initiated Trials (IIT)