Healthcare Translation Services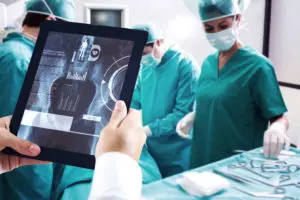 GTS is the leading company for translation services for healthcare, providing a wide range of translation services to the healthcare industry. Our health care industry clients include hospitals, medical schools, developers of healthcare equipment, medical device companies, pharmaceutical companies, biotechnology companies and CROs. We also provide document translation services for the medical tourism industry.
Click here to order healthcare translation services online.
The importance of language accessibility in healthcare cannot be overstated; miscommunications can literally be a matter of life and death. Translation services play a pivotal role in ensuring that healthcare providers and patients speak the 'same language', even if they actually don't.
The need for translation in healthcare is multifaceted. For starters, patients must understand their diagnosis, treatment options, and the implications of consent forms. It's not just about the spoken word either; written materials such as patient brochures, medical histories, and post-operative care instructions must be clear and accurate. An incorrectly translated dosage recommendation or misunderstood symptom could lead to serious medical errors. As the medical community becomes increasingly global, there's a burgeoning demand for translating medical research, clinical studies, and drug information to facilitate the sharing of knowledge.
Mastering the terminology in healthcare translation
The challenges of translation in healthcare are numerous. Medical jargon is complex, and translators must be well-versed in both the language and the intricacies of medical terminology. A word-for-word translation can be disastrous, especially when cultural nuances play a significant role in how health concepts are understood. For instance, mental health perceptions vary across cultures, and a direct translation might fail to convey the intended meaning. When precision matters and you need top medical terminology translations, contact GTS.
Expertise in Healthcare Translation
Customers in the healthcare industry have come to rely on our team of subject-matter experts for a wide range of healthcare translation services. Our experts include linguists with training in most branches of medicine, biochemistry, biotechnology, chemistry, pharmacology and toxicology.
Here are some of the healthcare translation solutions that we provide:
Translation of clinical trial documents for clinical research and new drug development. Translation and back translation of Informed Consents.
Medical device manuals and Instructions for Use (IFUs)
Translation of medical reports, pathology reports, lab and imaging results
Software localization of healthcare products
Medical insurance documents
Certified Healthcare Translations
We provide certified medical translation services which are recognized by courts, government agencies and IRBs/Ethics committees. Our quality policy is certified as compliant with the ISO 17100:2015 standard. All translation of healthcare documents are provided with a signed translation certificate.
Healthcare Translation in all Languages
We provide translation of healthcare documents in over 90 languages. This includes French, Italian, German, Spanish, Japanese, Chinese, Arabic and Portuguese. We also translate health care texts from any language into English.
Why you should be using GTS for your healthcare translations?
Experience and Expertise: GTS has specialized translators with deep expertise in medical terminology, ensuring accurate and appropriate translations.
Confidentiality: Handling sensitive medical information requires the highest degree of integrity and discretion. GTS prioritizes data protection and client confidentiality. Compliance with HIPAA (Health Insurance Portability and Accountability Act) is paramount for entities and business associates handling protected health information (PHI) in the United States.
Global Reach: GTS's vast network of translators cover a wide array of languages, making it an ideal choice for international healthcare institutions.
Quality Assurance: Through rigorous quality control processes in compliance with the ISO 17100:2015 standard, GTS guarantees translations that adhere to industry standards and best practices.
Rapid Turnaround: In the healthcare sector, time can be of the essence. GTS offers quick turnaround times without compromising quality.
Related Posts from the GTS Blog
GTS Translation Steps Up to Assist in COVID-19 Clinical Studies
Using Translation Services in Investigator Initiated Trials (IIT)