Urgent Translation Services
Count on GTS Translation for urgent delivery of translation services. We are the most reliable urgent translation service on the Internet.
Click here to get started on your urgent translation now.      Translate Now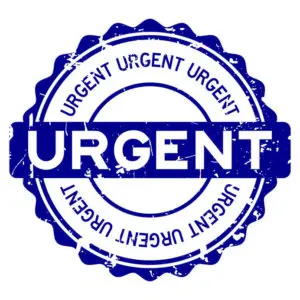 I need to translate a document urgently. What is the best way to proceed?
Sometimes you need to get something translated in a hurry. Like a legal document for a court appearance. Or an SDS to ship chemical products. Or if you are bidding on a lucrative international tender with a hard deadline. Losing time waiting for a translation can end up in lost revenues or may even result in financial losses. That's when you need a translation company that can respond to your needs quickly and reliably.
Why choose GTS for your urgent translation needs?
As an online translation company, you can get started on your urgent translation project now and immediately. Get an instant online quote on our website. Once the quote is displayed, complete the checkout process online. Within minutes we start working on your translation.
We rely on an international network of translators in every country in the world that translate in over 80 languages. We only use hand-picked professional translators who have undergone strict testing to ensure their skills and qualifications. Our translation process is certified as compliant with the ISO 17100:2015 standard. All of the urgent translation services that we provide are 100% human- no machine translation is used in our work process.

What kind of material can we translate urgently?
We can expedite translation of rush jobs of every kind: business documents, sales/marketing, financial, medical, technical and legal translation services. This includes translation of:
Proposals, RFP/RFQ documents

Our translations are certified
Our company quality policy is certified as compliant with the ISO 17100:2015 standard. Our stringent quality process ensures that your documents are delivered at the highest quality level. Read more about translation quality process here. Read more about official translation services here. Our quality process is guaranteed to deliver the best certified translation possible. We provide certified translation of legal documents, certified translation of medical reports and all other documents that need official certification.
Express Delivery of Document Translation Services
Do you need express delivery? GTS is the fastest document translation agency. Just tell us your turnaround time requirements and we'll do our best to comply. We can deliver documents of up to 100 pages in 24 hours.
We Translate in over 80 languages
GTS has an extensive network of certified, professional translators in over 100 countries. We provide language translation services in all European, Asian, Scandinavian and Middle-Eastern languages. This includes French, Italian, German, Chinese, Japanese, Russian, Arabic and Spanish translation services.
All file formats supported
Do your need to translate PDF files? Is your document in PDF, MS Word or Excel? Powerpoint or Framemaker? InDesign, Microsoft Publisher or Illustrator? Not a problem. We support nearly every type of document file format.
Hundreds of Satisfied Clients
Hundreds of customers have ordered document translation services from GTS. Clients enjoy the simplicity of our online quote system which allows them get a price quote and order translation services online in seconds. Click here to see the GTS Translation client list. We are ranked as one of the top 10 translation companies on several well-known review sites. Click here to read more.
PDF File Translation | CV Translation Services | Translation of Tax Statements | Translation for the Cosmetic Industry